Aldeburgh dig unearths teenager's 'keepsakes' box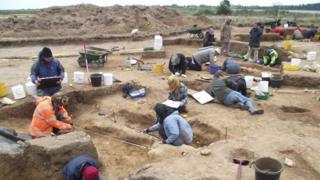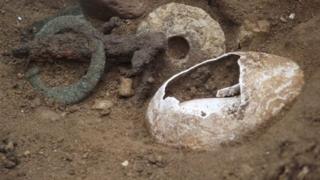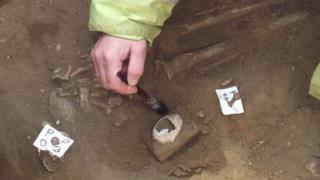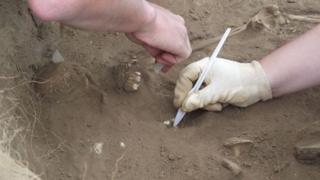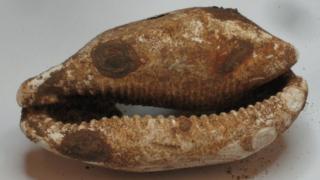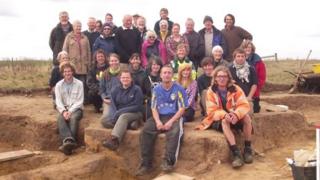 An Anglo-Saxon teenage girl's box of trinkets is thought to have been uncovered by archaeologists during a three-week dig in Suffolk.
The excavation of a graveyard, dating from about AD650, has been completed at Barber's Point on the River Alde.
Eight more skeletons have been found in graves alongside seven others which were uncovered during previous digs.
The box of 'keepsakes' included a bracelet, a brooch and a cowry shell which is almost completely intact.
The graveyard, near Aldeburgh, is believed to be one of the earliest examples of a Christian, rather than Pagan, burial site in East Anglia.
Other graves were found without skeletons, which are believed to have decayed in the acidic soil.
Jezz Meredith, from Suffolk County Council's Archaeological Service, said: "The group of items found are likely to be keepsakes or mementos placed at the feet of this young adult female.
'Exceeded expectations'
"[It's] very different from the sorts of things placed with the dead in the earlier Pagan period. "
"Before the Christian era, males were buried with weapons and females with their finery - so they were equipped and armed for the next world."
The service has been working alongside the Aldeburgh & District Local History Society (ADLHS) using Heritage Lottery Fund money.
Tony Bone, chairman of ADLHS, said: "We've done four digs here from 2004-2010 and it's great we've come to a conclusion.
"It's exceeded our expectations and we look forward to the deliberations of the county team to tell us more about these finds."
The shell was removed from the site encased in earth and the team initially thought it was a duck egg.
The cowry shell was believed to have originated from the Indian Ocean and the team said they had been found in other Saxon graves.
The dig also uncovered a dolphin ornament dating from Roman occupation of the site.
The skeletons and artefacts have been removed by the county team and may eventually end up on public display.
The graves have been filled in again as the site is returned to habitat for wildlife.