The Darkness sell out first ever Lowestoft gig and add second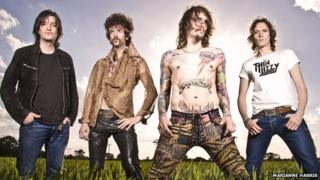 Lowestoft rockers The Darkness have sold out their first ever hometown gig and added a second.
The band, who previously said they could not find a suitable location for a homecoming show, will open the new Aquarium on Claremont Pier on 18 December.
A second date has been added at the 820-capacity venue the next day.
Venue owner David Scott said it was "great news" while the band said they were "delighted" with the response.
Three members of the band, Dan and Justin Hawkins and Ed Graham grew up in Lowestoft, but when they wanted a homecoming gig in 2003, they claimed they could not find a suitable venue there.
'Drunken nights'
Instead, the band performed at neighbouring Great Yarmouth's Marina Centre.
Dan Hawkins, the lead guitarist, said: "[The 2003 gig] caused a bit of a fracas among Lowestoftonians with Lowestoft and Yarmouth being such bitter rivals, but it was a great show.
"It's funny, because your ambition when you're growing up is not to be playing in your hometown because it means you're going places.
"But then you turn a corner and try and get a local show booked and this venue came on the radar and it seemed to fit."
Mr Scott said: "The sold-out Aquarium just shows how much Lowestoft has needed a proper music venue.
"I was always hoping we could do two nights and this is proof the demand is out there.
"It's going to be a major event in Lowestoft in the run-up to Christmas."
Dan Hawkins said they had fond memories of the site of the new venue.
"There was a nightclub on the Claremont Pier that we used to go to in our younger days, so we have many memories of drunken nights there, and these should be no different."
The band has already sold out a show at the UEA in Norwich on 16 December.