Suffolk PCC Tim Passmore critical of Highways Agency after A14 accident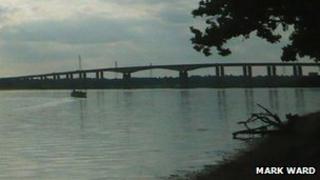 Suffolk's police and crime commissioner has hit out at the Highways Agency after a diesel spill caused hours of delays around Ipswich.
The accident at Nacton at 07:00 BST led to over four hours of problems as A14 traffic diverted into Ipswich.
Tim Passmore, PCC for Suffolk, said: "I am sick to death of the incompetence of the Highways Agency and their complete disregard for Suffolk."
The Highways Agency said it did all it could to open the road quickly.
Suffolk Police said fuel spilled on to a slip road, which meant queues developed on the eastbound section of the A14 over the Orwell Bridge back to the A12 Copdock interchange.
The main roads into Ipswich town centre then became clogged up as traffic sought alternative routes.
'Unacceptable'
Mr Passmore said: "I am staggered and I really can't believe the diesel spill caused as much trouble as it did.
"It is unacceptable that the Highways Agency cannot respond to incidents on this major route more swiftly.
"When they have to get equipment to clean the road from Essex or from Gatwick Airport that's completely ridiculous and I've offered to have some of it stored here."
Mr Passmore said he would be seeking another meeting with the Highways Agency.
A Highways Agency spokesperson said: "We regret any inconvenience caused to road users.
"The incident was complex in that it involved two flatbed trucks and two vans which had to be recovered from the scene and a full tank of diesel which spilled on to the road had to be cleared up.
"Once the police had finished their investigation we did all we could to reopen the road as soon as it was safe to do so."