Hollesley Bay Prison: Absconder recaptured in Luton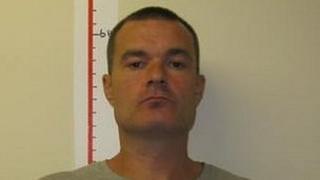 A man who failed to return an open prison in Suffolk while on home leave in Luton has been recaptured.
Gregory Dennett, 43, is serving a life sentence for wounding with intent to commit grievous bodily harm. He failed to return to Hollesley Bay on Monday.
Dennett was captured by police in Luton and will be returned to the prison system, Suffolk Police said.
Cambridgeshire bank raider Kevin Smith, 29, from Lincolnshire, absconded on the same day and is still being sought.
Smith, from Spalding, was three months into a sentence of five years and three months when he went missing.
He was part of a four-man gang jailed for stealing a cash machine with £34,000 inside from Kimbolton, Cambridgeshire in September 2012.
Earlier this week a Prison Officers' Association member questioned whether prisoners such as Smith should be sent to open prisons early in their sentence.
He also said prisoners with dangerous or violent histories should be better assessed before the decision was taken to send them to prisons such as Hollesley Bay.
The Ministry of Justice said between March 2012 and March 2013, eight prisoners absconded from the category D jail.