Yellow palm oil residue found on Suffolk beach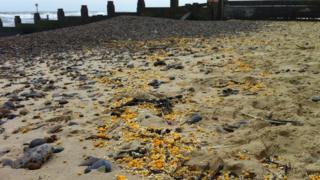 A council is pledging to identify who was responsible for yellow palm oil residue which has washed up on Suffolk beaches.
The globules have been found between Lowestoft and Southwold beach.
Waveney District Council said it was not harmful to skin, but dogs who had licked or eaten it had become ill.
The source is believed to be an offshore ship and the council said it would attempt to find and punish whoever did it.
Mayor of Southwold Simon Tobin said: "Dogs seem to be attracted to it and have licked it and it has made them sick.
"It looks like the palm oil which came a year ago and it's a substance on the beach that we want sorted out as soon as possible."
Councillor Stephen Ardley, who has responsibility for the environment at Waveney District Council, said: "We are clearing it up and we're hoping to find who is responsible and they will pay.
"A similar thing happened last year so hopefully we can pin it down to a culprit this year."