Suffolk schools improvement campaign to get £2.4m boost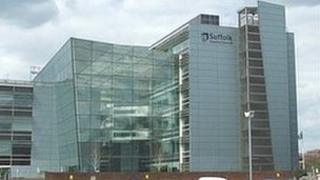 A £2.4m fund has been put forward to boost education standards in Suffolk schools.
The budget will come from a Suffolk County Council reserve fund and follows an inquiry into poor school performance in the county.
The money will be used to train school governors to develop strong leadership.
A campaign will also be mounted to encourage parents to engage with schools and give their children more home support.
Concerns that 76 Suffolk primary schools were failing to provide a good standard of education prompted a countywide inspection by Ofsted.
The county's ruling cabinet will meet on Tuesday to consider the proposals to use £2.4m from its reserves.
Lisa Chambers, cabinet member for education, skills and young people, said: "The rate of improvement in educational standards in Suffolk needs to see a real step change.
"We cannot be satisfied with tinkering around the edges and not really addressing the real issues.
"We must have the courage to be bold and innovative, to take the difficult decisions and put in the hard work that is required to make this happen."