Wickham Market pub fire: Landlord John Parnell released from police bail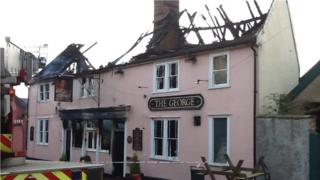 A landlord who was arrested after a fire seriously damaged his Suffolk pub, has been released from police bail.
The fire broke out at The George on High Street, Wickham Market, in the early hours of 18 April.
Landlord John Parnell, 59, of Elmswell, was inside and escaped through a bathroom window but was later arrested.
Police said the blaze was suspicious but after an investigation no charges would be brought against Mr Parnell and they have appealed for new information.
The fire destroyed the roof and first floor of the pub, but no-one was injured.
A day after the blaze Mr Parnell told BBC Radio Suffolk there had been a "massive explosion" and he escaped by climbing out of a bathroom window onto a flat roof below.
Suffolk Police said they had carried out a comprehensive investigation and Mr Parnell faced no further action.