Ipswich Old Cattle Market bus station to reopen after delays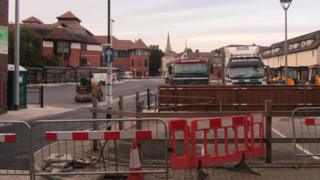 A Suffolk bus station is to reopen next week after delays meant the £700,000 revamp was not finished when planned.
Work on the Old Cattle Market Bus Station in Ipswich began in May and was due to be completed in August.
Problems with underground utilities were blamed for the delays.
Suffolk County Council said the bus station, featuring a new forecourt, carriageway, paving and disabled toilet, would be ready for passengers on 7 October.
Councillor Graham Newman, cabinet member for transport, said: "The programme to refurbish Old Cattle Market was hit by unforeseeable delays earlier in the summer, but I'm pleased to announce it will now open on 7 October."
Although the new ticket office, lighting and taxi bays would be ready, the Real Time Passenger Information boards would not be operational straight away.
Friars Street would revert to two-way traffic on that date, but Princes Street to the north of Museum Street would close for a week of resurfacing work.
Both of Ipswich's town centre bus stations have been closed for refurbishment.
The council said the Tower Ramparts Bus Station, which closed at the start of September, was on course to reopen ahead of its original completion target date of 15 November.