Mildenhall Museum ready for Anglo-Saxon warrior & horse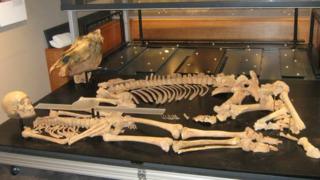 A Suffolk museum has taken delivery of the skeletal remains of an Anglo-Saxon warrior and his horse.
The remains were found in 1997 at RAF Lakenheath and they are going on display at nearby Mildenhall Museum.
The warrior is thought to have died in about AD 500 and the find included a bridle, sword and shield.
The bones are being displayed under glass in the same position they were found in and the public will be able to see them next month.
Suffolk Archaeological Service has been in charge of the skeletons, which were part of a cemetery containing 427 graves.
The warrior is believed to have been born locally and was about 30 years old when he died.
Osteo-archeaologists
Jo Caruth, senior project officer with the Suffolk Archaeological Service, said: "Finally it's here in Mildenhall where it belongs and it's the first time we've seen the complete bridle with the horse since it was dug up.
"What really made this find special was the very good bone preservation and man and horse were buried together, whereas in other places they are in separate graves.
"We've brought in osteo-archaeologists to make sure the bones are positioned in the right way in the display."
The museum has been doubled in size to house the new exhibit using £789,813 provided by Forest Heath District Council.
The display is being opened to the public on 8 October.