World War II bomber veteran Len Manning gets award 70 years later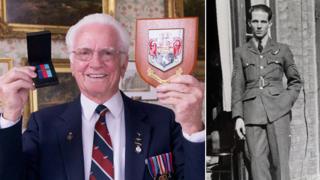 A World War II veteran who was shot down over France has been honoured in Suffolk nearly 70 years later.
Rear gunner Len Manning, 88, survived after his Lancaster was hit in 1944.
After a campaign by the Royal British Legion and BBC Suffolk, he finally got a Bomber Command Clasp, which is issued instead of a medal to bombing crew.
It was presented to Mr Manning, who lives in Little Waldingfield, by the mayors of Sudbury and Ipswich at Ipswich Town Hall.
Mr Manning, who was 19 at the time, had to bail out at 4,000ft (1,200m) with a burning parachute after his plane was hit by the Germans.
Four of the crew were killed, and Mr Manning avoided capture and was hidden by the French Resistance until the country was liberated.
Collaborators
Mr Manning said he was told he did not originally qualify for the clasp because he had not served the requisite 60 days in Bomber Command before his plane was shot down, but one has now been given to him by the government after the campaign.
He said: "I spent seven months with the resistance, but you didn't know from one day to the next what was going on.
"I was warned not to be about when the postman was around, because he was suspected of being a collaborator.
"But there were people who kept moving me around and if they'd been caught, they'd have been shot."
Robin Vickery, chairman of the Ipswich branch of the Royal British Legion, said: "It's an amazing story he's got to tell and we should look after our veterans and get it all recorded to keep them alive."
Mr Manning said he returns to France every five years, but he is the only member of his crew still alive.
He was also given a plaque by the Mayor of Sudbury in recognition of his work telling his stories to local schools and other organisations.