Ipswich super-strength alcoholic drink campaign hailed a success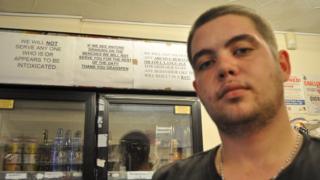 A year after its launch, a campaign to stop Ipswich shops selling super-strength beer and cider has helped cut crime, Suffolk Police say.
The Reducing the Strength campaign had signed-up two thirds of the town's shops to the project.
Police said the idea was aimed at cutting anti-social behaviour by street drinkers.
Officers said the number of identified street drinkers had dropped from 78 to 38 since last September.
Suffolk Police is thought to be the first in the UK to introduce such a scheme.
The force's statistics for the first six months of the scheme showed the number of anti-social "incidents of concern" dropped from 191 to 94 compared to the same period the previous year.
Although the police and authorities believe the scheme has been a success, some shops have refused to join it.
The shop that still sells super-strength
Granspen on St Matthew's Street is one of the shops that has not signed up to Reducing The Strength.
Street drinkers can still be found with cans on the public benches outside the store.
Employee Jordan Saggers said: "Alcohol, including super-strength, is about 25% of our trade.
"Even the shops which don't sell super-strength still sell spirits which have a lot higher alcohol content, so it doesn't make sense.
"Selling alcohol is not illegal, but we don't sell to people who are already intoxicated and nor do we promote these types of drinks."
The shop that stopped selling super-strength
The East of England Co-op's 53 Suffolk stores no longer sell the super-strength drinks.
Roger Grosvenor, its executive officer, said: "It hasn't affected our trading figures at all.
"The big positive is the qualitative benefit - it's removed the fear that staff had over how a drunk could react and now they just don't come in.
"We believe it's made Ipswich a better place to work, live and play as a whole."
Suffolk Police
Insp Andrew Mason said: "We've had significant reductions in calls to the police as a result of street drinking and a reduction in thefts of alcohol from shops that have removed super-strength drinks.
"We had 12 identified locations for street drinking and that's down to two now and our outreach workers can engage with them.
"We had 78 identified street drinkers and that's halved, so we've helped about 40 people rebuild their lives.
"If you're a street drinker with not much money and you can be taken over your daily alcohol limit with one 89p can, then there's a big difference between that and being able to buy a larger bottle of vodka."
The street drinker
People can still be seen drinking alcohol on Ipswich's streets despite bye-laws which aim to stop it.
One man who did not wish to be named, said he drank 20-30 cans a day.
"I beg for the money and it costs about £30.
"Everyone who wants it knows where to get it still and if [the authorities] completely take super-strength off the shelves, they will just turn to the vodka and steal from shops."
The local council
Neil MacDonald, portfolio holder for public health at Ipswich Borough Council, said: "It's one tool in our tool box of making Ipswich a better place.
"Anti-social behaviour has gone down, so that's a good thing.
"Liver damage is on the increase in our hospitals, so there's an important message here that strong alcohol is harmful and banning super-strength will help improve public health."