RSPB creating new marsh lagoon at Hollesley in Suffolk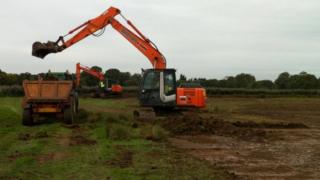 The RSPB is creating a new lagoon for wading birds on the Suffolk coast.
The 'scrape' is on marshland neighbouring the open prison at Hollesley, near Woodbridge.
The lagoon will be about 1ft (30cm) deep and the bird conservation charity hopes avocets and terns will be attracted there.
The habitat will be similar to the lagoons at Havergate Island, further up the coast, where gulls have been displacing the other birds.
It is being built using £250,000 from Waste Recycling Environmental Limited's Biodiversity Action Fund, which is paid for from landfill taxes.
The lagoon is being dug out to just below the water line.
'Difficult time'
Up to 2,000 tonnes of shingle is being transferred to the site. This will be used to create islands in the lagoon, which the RSPB says will become vegetated.
Aaron Howe, RSPB project manager and warden at Havergate, said: "Before, we had a large grassy field here which we couldn't really get wet enough for the breeding birds we wanted to attract.
"Havergate Island used to be significant for breeding avocets and terns, but gulls are displacing them.
"So the new lagoon is for birds that are having a difficult time elsewhere."
The RSPB says the lagoon will be similar to the ones at Minsmere near Dunwich and birdwatchers will be able to view the new water habitat from the sea wall.
It says the lake will be completed by Christmas and an anti-fox fence will be put around it in time for the next breeding season.