Felixstowe supermarkets: One site out of three gets approval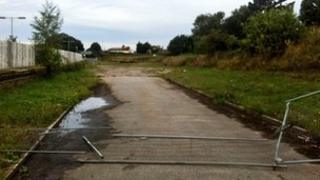 Planners have rejected plans for a Tesco and an Asda in a Suffolk town in favour of a site proposed for an unnamed supermarket chain.
Suffolk Coastal District Council has granted approval for a store on derelict land between Felixstowe railway station and Garrison Lane.
However, it has rejected plans by Tesco for Walton High Street and by Asda for the Haven Exchange Retail Park.
Councillors said they favoured a site which could link to the town centre.
The planned development on derelict land between Garrison Lane and the railway station was opposed by Felixstowe Town Council and the Felixstowe Society.
However, an independent consultant's report commissioned by the council concluded that the railway station site was the best of the three options.
Councillor Andy Smith, cabinet member for planning, said: "We approved the one at Railway Approach and refused the other two, because they are essentially out-of-town and would not have links to bring people and footfall to the town centre.
"The approved application is by an independent firm of developers who have, they say, a client, but that client does not want to be named at this moment, but we are assured it is one of the larger supermarket chains.
"There is an element of risk, but it's not just a speculative straw in the wind - we were satisfied that was not the case."