Lowestoft £13m shared council building gets approval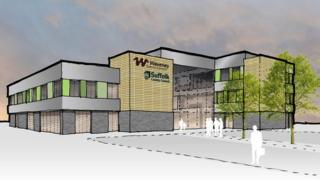 Planning approval has been granted for a new £13.6m building for 500 staff from two Suffolk councils.
The building on Kirkley Waterfront in Lowestoft will be shared by Suffolk County Council and Waveney District Council.
The local authorities claim it will be energy efficient and save £3m over 10 years.
Construction work is due to begin next year and the new building could be ready for staff in early 2015.
The councils decided building the new office would be more cost effective than repairing its existing buildings.
Councillor Mark Barnard, Waveney's cabinet member for resources, said: "This landmark development will save taxpayers millions of pounds currently paid out to maintain a host of unsuitable buildings."
Councillor Colin Noble, Suffolk County Council cabinet member, said: "This is an important development for Lowestoft and marks a key milestone for the economic regeneration of the Kirkley Waterfront."
A new shared customer facility is also to open at the Marina Centre in Lowestoft town centre.