Tesco's Hadleigh supermarket plans rejected again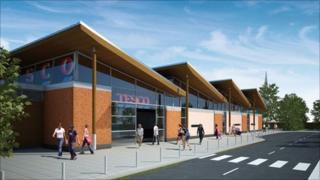 Tesco has had another application turned down for a store in a Suffolk town after trying for 25 years.
The company wanted to build on the former Brett Works site in Hadleigh behind High Street and Bridge Street.
Babergh district councillors voted seven to six to reject the plans owing to the negative economic impact a store would have on the town centre.
Tesco's first application for the town was in 1987 and its last bid was thrown out in 2011.
Since then, Morrison's has opened an out-of-town-centre supermarket in Calais Street.
Planning officers at Babergh had recommended councillors should grant planning permission.
'Disappointing'
Peter Beer, chairman of the planning committee, said: "The impact on the local highway network, the effect on the vitality of the town centre in retail impact terms and its design and impact on listed buildings were all fundamental to the council's decision."
Matthew Magee, corporate affairs manager for Tesco, said: "It's disappointing because we think we've got a great application to bring investment, new jobs and new shopping into Hadleigh.
"We'll have a review and make a decision on what to do now."
The decision was greeting with applause by campaigners against the store, including Hadleigh Chamber of Commerce, Hadleigh Town Council and the Hadleigh Society.
Andrew Cann, spokesman for the chamber, said: "It's a victory for the people of Hadleigh as it was simply going to destroy the High Street and people come here because of the environment and the independent stores.
"If Tesco put in an appeal, and we do expect them to, we'll be fighting against it."