Ipswich Royal Mail workers vote for industrial action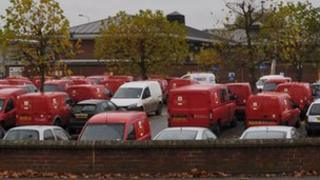 Royal Mail workers in Ipswich have voted for industrial action over the proposed transfer of posts to Essex.
The company said it was looking to move processing jobs to Chelmsford as part of a national reorganisation, although no final decision had been made.
The Communication Workers Union (CWU) said it would affect at least 139 of the roughly 230 people who work at the Commercial Road site in Ipswich.
The union said 70% of members who voted backed the industrial action.
It said the turnout for the ballot of its members was about 65%.
CWU said the move to Chelmsford had not been agreed with the union and it had a number of concerns.
Royal Mail said no final decision had been made.
A spokesperson said Royal Mail was "fully committed to the process of trying to resolve concerns".