Ipswich anti-racism gig cancelled over 'violence threat'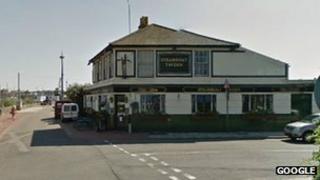 An anti-racism gig was cancelled after police advised that opponents could disrupt it and there was "potential for violence".
The Love Music Hate Racism event, featuring over a dozen local acts, was due to take place at the Steamboat Tavern in Ipswich on Sunday but it was called-off at lunchtime.
The organisers said the decision gave the "green light" to racists.
Police said the decision to cancel the concert was made by the venue.
Lauren Bulaitis, 16, one of the gig organisers, said: "I completely understand why the pub pulled the event, but it's still such a shame.
"We were completely let down by the police and racism was given a green light in Ipswich yesterday."
A spokeswoman for the Steamboat Tavern said the decision to cancel the event was "upsetting" but was made to avoid the pub being caught up in a "political" event.
Sgt Jo Garrard, from Suffolk Police, said: "We had a number of different sources of information to say there were individuals who were planning on disrupting the event and there was a potential for violence.
"It is really disappointing and we did discuss how the event could be postponed and alternative arrangements made."
Police said officers would be analysing posts on social media sites that had suggested to them that disruption would take place.
The organisers of the event said they would now try to organise a similar event at a different venue at some point before Christmas.