Angel Of Waste sculpture unveiled at Foxhall centre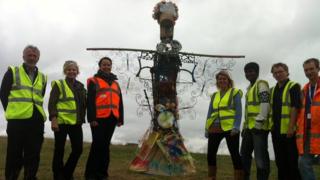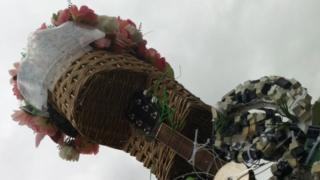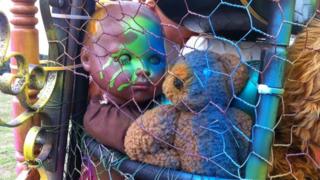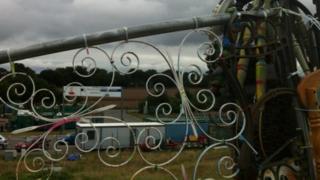 A smaller version of the Angel Of The North sculpture has been unveiled in Suffolk - made entirely from recycled rubbish.
The Angel Of Waste is on display on a hill at the Foxhall household waste site near Ipswich.
The 10ft (3m) high artwork has been made by Leanne Donnelly and features wicker baskets, garden furniture, fridge shelves and fake flowers.
The sculpture was constructed with help from disadvantaged people.
The Angel is part of the Caddisfly scheme which was set up by the artists with Ipswich Furniture Project to restore items which are taken to waste sites.
'Hard to reach'
All the items used in the sculpture were salvaged from landfill and they also included a mirror, plastic toys, a teddy bear, crockery, a sword and piano legs.
Donnelly, who also works as an art therapist, said: "I'm really relieved because it's lovely to see that she's upright and she represents six weeks of hard work from the volunteers.
"We specifically work with adults that are classed as 'hard to reach', so they might be vulnerable, have had mental health problems or learning difficulties and the guys have really come on and become much more confident about their abilities.
"I might have to take a cheeky picture and send it to Antony Gormley [Angel Of The North artist] to show that we've been inspired by him."
The partnership behind the project also included Suffolk County Council and waste companies FCC Environment and Viridor.
The council said the sculpture was being used to promote the "re-use areas" at household waste sites, so that people would not automatically throw good quality items into waste skips.