Suffolk couple Paddy and Julyan Heazell killed in US car crash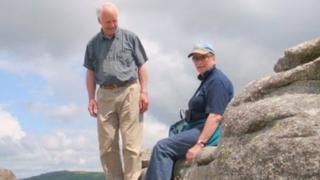 A retired couple from Suffolk have been killed in a car crash in the US.
Paddy Heazell, 77, and his wife Julyan, 74, were travelling in New Hampshire on Sunday when their car hit a tree during a visit to Mount Washington Valley.
The couple, from Snape, were regular volunteers with Aldeburgh Music, RSPB Minsmere, the Suffolk Wildlife Trust and the National Trust.
Mr Heazell's brother Gareth and his wife Pamela, who were also in the car, are being treated in hospital.
'Zest for life'
As well as volunteering, Paddy and Julyan Heazell sang in the choir at Aldeburgh Parish Church, where they were married in 1962.
Mr Heazell had also written a book about the history of Orford Ness.
Canon Nigel Hartley, vicar at Aldeburgh Parish Church, said: "The holes left by people like Paddy and Julyan are enormous and, in some ways, it's only now you appreciate how much they did and how difficult they will be to replace.
"One of my lasting impressions of them will be their zest for life.
"He was probably one of the leading authorities on the secret military and Cold War history of Orford Ness and although a lot of his knowledge was in his book, a lot will have now gone."
'Sadly missed'
Mr Heazell also conducted tours at Orford Ness for the National Trust, while Mrs Heazell volunteered there until recently.
Duncan Kent, National Trust senior ranger at the reserve, said: "To us all they were great colleagues and friends and they will be sadly missed."
Harry Young, general manager at Aldeburgh Music at Snape, said: "They were really generous and kind and cultured people who gave a huge amount of themselves to the local community."
An RSPB spokesman said: "Julyan was a valued member of the volunteer team at Minsmere, welcoming visitors to the site and providing them with information to enhance their visit.
"Her interest and passion for the natural world was an inspiration to those who met her."
The couple had three children, Simon, Camilla and Victoria, and one grandchild.