Ipswich town centre DTZ plan has 'wrong priority'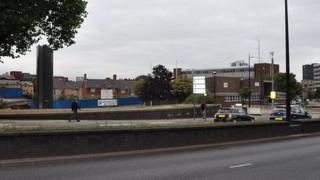 A new study on the development of Ipswich town centre sets the wrong priority, a business group has said.
The report by consultants DTZ said the first aim should be turning the former Civic Centre site into a retail area.
Ipswich Borough Council commissioned the survey and will consider it for its town centre plan.
Business group Ipswich Central said the emphasis should be on linking the town centre with the waterfront rather than expanding in a westward direction.
'Impartial advice'
The DTZ report said the Civic Centre site next to the New Wolsey Theatre was the "most suitable" for retail development.
Paul Clement, chief executive of Ipswich Central, which represents 700 businesses, said: "I'd strongly suggest that this report is stuck on a shelf and we go back to what was our priority before it was released."
Carole Jones, Labour councillor and Ipswich Borough Council's economic development portfolio-holder, said: "The report is about advising the council on retail matters - not on how links between the heart of the town centre and the waterfront could and should be better developed.
"It is important that we take expert and impartial advice."
The Civic Centre site is owned by Turnstone and redevelopment could also include the disused former crown court building and the police station, which the Suffolk force wants to leave.
Turnstone said it was "heartened" at the report's recommendations and wanted to deliver the "vision".
DTZ was unavailable for comment.