Flood defence plans announced for A12 at Blythburgh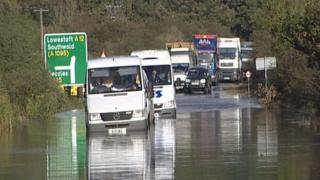 A series of raised banks could be built as flood protection for part of the A12 in Suffolk.
The earthworks near Blythburgh would help prevent a repeat of the flooding which forced the road to close in 2007, Suffolk County Council said.
The council said plans for the banks were drawn up after an eight-month study of the effects of flood defences locally and at Southwold Harbour.
The banks could be in place by the next spring.
Additional flood defence measures would be investigated while the banks were created.
Guy McGregor, Suffolk County Council's chairman, said: "The flooding in 2007 may have happened some six years ago this November but that doesn't mean the effects have been forgotten.
"This will provide the protection the road needs at the earliest possible point, while giving us time to investigate fully any other measures that might further protect the local area.
"The A12 links Suffolk's two largest towns (Lowestoft and Ipswich) and we cannot and will not allow a repeat of the devastating floods that took place six years ago."
Detailed plans are to go on display later this year.