BBC contributor Simon Warr accused of sex offences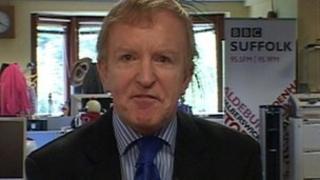 A teacher and BBC contributor has been charged with sex offences as part of an investigation into abuse allegations at a school in Suffolk.
Simon Warr, 60, of Great West Road, in Hounslow, west London, is accused of indecent assault and gross indecency with a boy.
He worked as a teacher in Suffolk and was a part-time contributor on BBC Radio Suffolk.
Mr Warr will appear before magistrates in Bury St Edmunds on 24 September.
Police said the charges related to an ongoing investigation into historic allegations of abuse at St George's School, in Great Finborough, in the 1980s.
Newspaper columnist
He is also charged with two offences relating to the Royal Hospital School, in Holbrook, in the late 1980s and early 1990s.
Mr Warr is accused of one count of indecent assault and one count of gross indecency with a boy in relation to the Royal Hospital School.
He has appeared on radio and national television, including The One Show on BBC One as a social media commentator and also as a BBC Radio 2 contributor.
Mr Warr also featured in Channel 4's That'll Teach 'Em, and was a columnist for the East Anglian Daily Times.
A BBC spokesperson said: "We can confirm that Simon Warr is currently not contributing to BBC Radio Suffolk and hasn't contributed since his arrest. As this is an ongoing police investigation we cannot comment further."
A Royal Hospital School spokesman said: "I can confirm that a former member of staff has been charged over his conduct regarding a pupil at the Royal Hospital School some 20 years ago, and a pupil at a previous school over 30 years ago.
"While the alleged events happened a long time ago, the school takes pupil welfare very seriously and is doing what it can to help the authorities."