Bury St Edmunds cat 'found strangled with tape'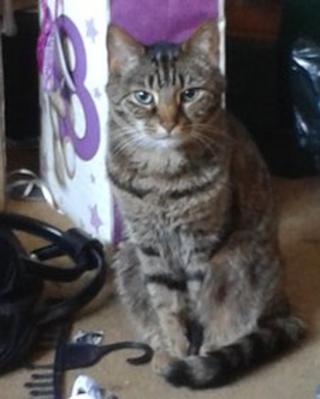 A woman has spoken of an "unimaginable" attack on her pet cat after it was found strangled with tape around its neck in a Suffolk town.
The male tabby, called Marley, was let out by its owner on The Vinefields in Bury St Edmunds on Tuesday morning.
Jennifer Pettit, 46, the owner, had been out searching for the five-year-old pet, which was found by her neighbour on Sunday afternoon.
Police said the cat had a deep laceration around its neck.
Ms Pettit said: "You worry when you let your cat out that it might go missing or be hit by a car, but what's happened is unimaginable.
"It would never have occurred to me that somebody would deliberately do this to an innocent animal.
"My cat was categorically murdered. He was strangled to death and his throat cut open.
"I've no idea why anybody would do this to him or to us but the worry is, if they've done it once, they'll do it again so it's important that they are caught."