Ipswich Royal Mail centre union ballot over job losses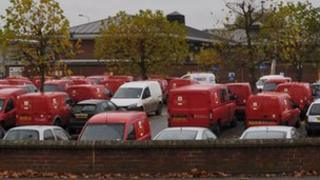 Royal Mail workers in Ipswich are being balloted on industrial action over the proposed transfer of posts to Essex.
The company announced it was looking to move processing jobs to Chelmsford as part of a national reorganisation.
The Communication Workers Union (CWU) said that it would affect at least 139 staff in Ipswich.
It said the move had not been agreed with the union and it had a number of concerns. Royal Mail said no final decision had been made.
Dave Scott, union branch secretary for Suffolk, said: "In August, Royal Mail told all staff under the roof that the entire processing element of work was to be transferred to Chelmsford.
"This [ballot on industrial action] is to try and force Royal Mail to step back from the executive action it has imposed and re-negotiate with the union.
"The union has made representations not only for the 139 jobs that would be lost, but also for protecting the current postal service the people of Ipswich and the surrounding area receive."
Ballot 'disappointing'
The union said a total of 230 people worked in the processing and delivery offices at the Commercial Road site in Ipswich.
Royal Mail said no final decision had been made on Ipswich, but "current thinking" was that the jobs could start moving to Chelmsford in 2014.
Sally Hopkins, Royal Mail spokesperson, said: "It is disappointing that a ballot for industrial action has been issued, however we remain hopeful that the issues can be resolved locally.
"Royal Mail is fully committed to the process of trying to resolve concerns of postal workers in Ipswich by continuing to follow the national jointly-agreed framework with the union."
The union said the result of the ballot would be known on 16 September.