Prolog: Sudbury warehouses get planning permission for second time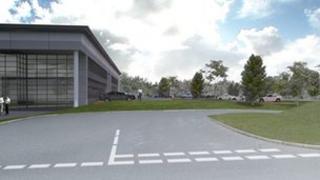 A market support firm has been granted planning permission for its new £50m warehouses in Suffolk.
Prolog's plans for Sudbury were first approved last year, but a dispute over the timescale for the start of building work led to a revision.
Babergh District Council's planning committee has now voted in favour of revised plans.
Prolog's chairman said the development had the potential to create 500 jobs but "it's not a promise".
The company, which provides warehousing and distribution for brand-name products which are bought online, already employs 430 people in the town.
The new proposal was for two warehouses on Church Field Road in Chilton but Sudbury Town Council had opposed the revised application.
Robert Spivey, Sudbury's deputy mayor, said: "Before we had a guarantee of 500 jobs, whereas Prolog are saying they would endeavour to create 500 jobs and there are also delays in when they would start building, which for us was a difficult thing to accept."
'Cautious welcome'
There were also objections that the proposed warehouses were too close to St Mary's Church and Chilton Hall.
Prolog's revised planning permission means it would have seven years to complete one or both warehouses and that it should use "reasonable endeavours" to create 500 jobs.
It would also have to provide £25,000 to mitigate the loss of wildlife habitat.
Peter Beer, Conservative chairman of Babergh's planning committee, said: "There were concerns about the impact on the church and Chilton Hall, but the substantial economic benefits this could bring outweigh the harm to these heritage sites."
Robert Audley, Prolog's chairman, said he was "cautiously pleased".
"There is a three-month window for objectors to mount a judicial review, but we should be okay as there was no technical flaw in the application.
"The site has the potential for 500 jobs, but it's not a promise as it never can be in business."