Car driven over Orford Quay into river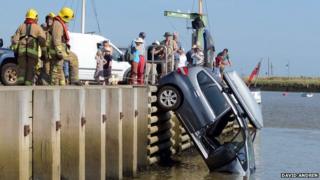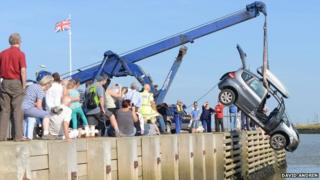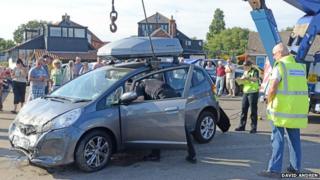 Two people had to be rescued after a car went into a river over the edge of a quay in Suffolk.
The automatic people carrier ended up with its bonnet nose-down in the River Ore at Orford Quay with its back wheels propped-up against the quay wall.
Local fishermen helped to get the man and woman who were in the car on to the quay and they were not injured.
Police were called out at 14:55 BST on Tuesday and the car was recovered from the water later on.
Peter Benstead, one of the fishermen, said he had sold fish at the quayside for 16 years and had not heard of a car driving off the edge before.
'They were lucky'
"We'd moored the fishing boat and were coming ashore in the dinghy when I just looked up and saw the car with the front down in the water," he said.
"We backed the dinghy into the door and managed to get the lady out first and she managed to get up the [quay] steps, and then we went round the other side and got the man out by taking him to the slipway.
"They were lucky really - if it had been at high tide, then they could have drowned."
Police said the couple were taken to Ipswich Hospital for checks, but they were uninjured.