Ipswich fans get right-to-bid in future Portman Road deal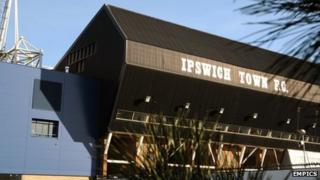 Ipswich Town fans must be given the chance to buy their football ground if it ever goes up for sale, after it was granted the status of community asset.
Ipswich Borough Council, which owns the Portman Road ground, has agreed the site should be regarded as an Asset of Community Value (ACV).
The ACV recognises the importance of the ground to the town and its people.
Colin Kreidewolf, from the club's supporters trust, said the move "helps safeguard the future of Portman Road".
Supporters trusts at Liverpool, Manchester United and Oxford United have all recently had their grounds recognised as ACVs.
As a result, the grounds cannot be sold without the local community being told and given an opportunity to bid for it themselves.
David Ellesmere, leader of Ipswich Borough Council, said the council had no intention of selling Portland Road but added: "We are very happy... to give supporters the reassurance they need that Ipswich Town Football Club will remain in the heart of Ipswich."
Mr Kreidewolf, secretary of Ipswich Town 1st, said: "Having ACV status means that any future administration at the council wouldn't be able to change that situation without involving supporters and local people.
"It helps to safeguard the future of Portman Road as a part of the Ipswich community."
He added: "This is a fitting way to mark the 125th anniversary of Ipswich Town's move to Portman Road on 1st October 1888."
The government allows local authorities to maintain a list of assets regarded as important to the community under the Localism Act 2011.