Felixstowe Langer Park travellers facing legal action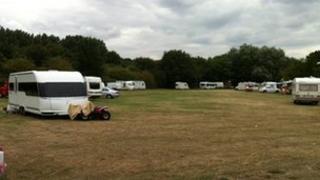 A group of travellers who moved on to a public park in Felixstowe are facing legal action to evict them.
About 15 caravans were at Langer Park last week and Suffolk Coastal District Council said it had now carried out welfare checks on the occupants, which included about 50 children.
Some caravans have left the site voluntarily.
The local authority said it had liaised with the police and county council to seek eviction notices via the courts.
A Suffolk Coastal spokesperson said: "We are committed to continuing the legal process until the site is completely clear and returned to public use."
The group of travellers have previously said there was no official site for them in Felixstowe.