Ipswich Curson Lodge to re-open after car crash damage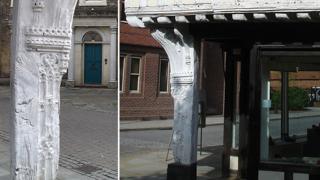 A 15th Century Tudor lodge that had its ornate entrance and carved corner post heavily damaged when it was hit by a car in February has been repaired.
Curson Lodge, on St Nicholas Street, Ipswich, was built in 1480 and destined to be the retirement home of Cardinal Thomas Wolsey.
The corner post is seen by conservation experts as one of the "best remaining examples... left in Ipswich today".
The lodge has been bought for an undisclosed sum to become a business.
Curson Lodge had been restored in recent years by the Ipswich Building Preservation Trust but had been closed since the crash six months ago.
Mike Taylor, conservation officer with Ipswich Borough Council, said: "At one time these posts were a real feature in Ipswich, created by craftsmen using a robust local style.
"Now this is probably the best remaining example of a Tudor corner post left in Ipswich today.
"The post, circa 1500-1530, features a design inspired by the church windows of the period, but it also has a wood carver's emblem.
"Tradesmen used these to promote themselves on the prestigious properties they worked on - what we don't know is who that tradesman was."
After the crash, a chemist's bottle was found filled with bills and photographs from 1902, a time when the lodge was the Wolsey pharmacy,
Mary Kedward, the new owner, said: "About 10 years ago, [the building] was boarded up and covered with psychedelic paint and I would just stand there and think 'Oh, that poor building, somebody's got to do something with it'.
"It's just lovely to be its keeper for a while."