Indo European Foods Ltd fined over trapped arm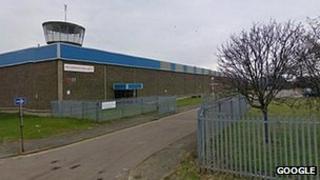 A food wholesaler in Suffolk has been fined £16,000 after a worker's arm became "trapped and entangled" in an unguarded conveyor belt.
Attila Czege, 34, was working for Indo European Foods Ltd in Felixstowe when it happened in September 2012.
The Health and Safety Executive (HSE) told Ipswich magistrates Mr Czege could not work "for several months".
The court heard his arm was "dragged in and around a large roller at the end of the conveyor, trapping his whole arm".
He sustained fractures to his upper and lower arm and underwent surgery three times in two weeks.
A HSE investigation revealed the conveyor had been in the factory since 2006 and had never been properly guarded to prevent access to the dangerous moving parts.
'Painful injury'
The court also heard that following a routine inspection in April 2009, the HSE advised the company to install guards on this part of the machine. However, the company failed to act adequately on this advice.
Following the case, HSE inspector Saffron Turnell, said: "The dangers associated with conveyors are well known throughout the industry and the guarding of dangerous moving parts is a fundamental element of mechanical safety.
"This incident could have easily been avoided as action to guard the machine adequately was quick and inexpensive."
He added it was "disappointing" the company had "failed to satisfactorily heed the earlier advice of the HSE" causing Mr Czege to suffer "a serious and painful injury which resulted in several months off work."
The company was ordered to pay costs of just over £900.