Ex-Ipswich Town player Guirane N'Daw's assault charge dismissed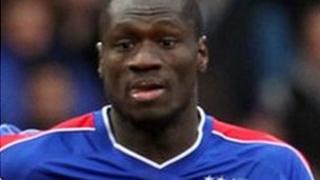 An ex-Ipswich Town player, who was charged with assaulting his wife, has had his case dismissed by a judge.
Guirane N'Daw, 29, then of Neptune Square in Ipswich, had denied a charge of actual bodily harm after his wife Bigue Ndiaye N'Daw was treated for bruising in March.
His trial was due to start at Ipswich Crown Court earlier.
Mrs N'Daw, due to appear as a witness, failed to arrive in court and the judge returned a not guilty decision.
Mr N'Daw, a Senegalese national, had been on loan to Ipswich from French club St Etienne, but his contract came to an end last season.
'Intolerable position'
The prosecution told the court a witness summons had been served on Mrs N'Daw in France, but she had not been able to come because her daughter was due to have surgery.
The defence counsel argued Mrs N'Daw had said, on several occasions, she did not want to proceed with the case and that there had been no contact between Mr and Mrs N'Daw since they had both returned to France, although divorce papers had been served on him.
His defence said Mr N'Daw was not signed to any club at the moment and, with the case hanging over his head, he had been in the "unhappy and intolerable position of not being able to secure employment".
Judge John Devaux said Mrs N'Daw had "no intention" of returning to appear at the trial and issued a "not guilty verdict by direction" on her ex-husband, before any jury was sworn in.