Travellers move on to park in Felixstowe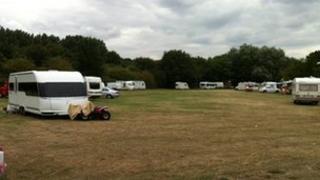 A group of travellers has moved from a field in Bury St Edmunds to a public park in a coastal town 40 miles away.
About 15 caravans were at Ten Acre Field in Moreton Hall.
The families arrived at Langer Park in Felixstowe on Monday evening and said their 50 children need a permanent site so they can go to school.
Suffolk Coastal District Council said it would be checking on the health and welfare of the travellers before taking action to move them on.
James Coyle, one of the travellers, said: "We'd like to live in Felixstowe if the council would make us a permanent site, rather than travelling around all the time which isn't fair on the kids - they're not getting a proper education.
"If the council could make a transit site so we can pull on and off it would save the community a lot of money [with legal action]."
'Inconvenience'
Some people living nearby told BBC Radio Suffolk the park was not a travellers site and they wanted the caravans to move on.
The council said it was carrying out a 'welfare audit' to establish the well-being of those living in the caravans.
It added the gates to Langer Park were locked on Monday after a carnival, but appeared to have been broken.
Council leader Ray Herring said: "The council has been made aware of an unauthorised encampment on Langer Park and we are fully aware of the inconvenience this may cause regular users of the park.
"Providing that no issues are identified during the welfare audit, appropriate action will then be taken to remove all the travellers, their vehicles and possessions from the site at the earliest opportunity.
"Once we have dealt with this encampment, we also intend to review all aspects of this incident, including the options open to us to improve security at this and other parks and car parks."