Brainy Dogs' Suffolk prisoner training scheme given grant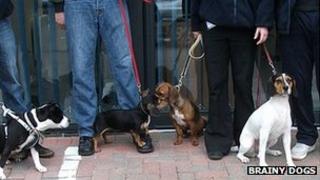 A scheme where prisoners train dogs to become companions to people with brain injuries has received a boost of £267,000 from the Big Lottery Fund.
Brainy Dogs, run by Headway Ipswich and East Suffolk, takes on rescue animals to be trained by inmates at Hollesley Bay prison, near Woodbridge.
Once taught, the dogs then help sufferers become more independent.
Helen Fairweather from Brainy Dogs said the animals had become a "really important rehabilitating tool".
"If we say to a client, 'let's go for a walk,' they will refuse as they lack motivation. But if we say, 'can you walk a dog?' there's a queue at the door," she said.
Brainy Dogs was initially funded by the Big Lottery Fund's Jubilee People's Millions programme, but the new grant will sustain the project for the next five years.
Brainy Dogs' client Mary said: "After my stroke, I felt alone and didn't go out. Now I have Patch, we go for walks in the park. People stop and speak."