Cransford motorbike collision claims lives of brothers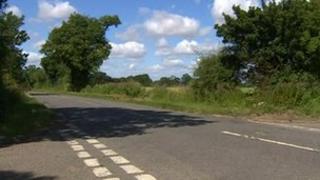 A collision between a motorbike and a car in Suffolk has claimed the lives of two brothers.
Liam Church, 19, from Sweffling near Saxmundham, was the pillion rider on the motorbike and was seriously injured in the crash at Cransford on 2 August.
He died in Addenbrooke's Hospital in Cambridge on Sunday as a result of his injuries, police said.
His brother, 21-year-old Michael, also of Sweffling, was riding the motorbike and died at the scene.
The incident involved a red Nissan Primera at the junction of the B1119 and Low Road in Cransford.
When the emergency services arrived, they found the motorbike on fire in a field.
Police are appealing for any witnesses to the crash to come forward.