HMS Ganges Association: Martin Foster admits fraud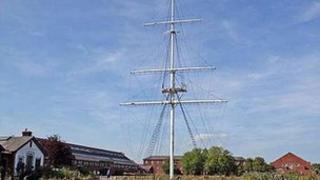 The former treasurer of a naval veterans' organisation has pleaded guilty to fraud after nearly £80,000 was withdrawn from its accounts.
The money belonged to the HMS Ganges Association for people who served at the former naval training base at Shotley Gate near Ipswich, Suffolk.
Martin Foster, 54, of Haig Road, Uxbridge, admitted two charges of fraud by abuse of position at Portsmouth Crown Court.
He is due to be sentenced in September.
The inquiry was carried out by Hampshire Police after debit card transactions of £4,200 and cash machine withdrawals totalling £74,000 were made from the association's bank accounts between August 2010 and June 2012.
The association said it had about 3,000 members and at the time of the offences its income from membership fees was about £30,000 a year.
'Custodial sentence'
John 'Shep' Woolley, chairman of the association, said: "He's stolen the money from an association mainly made up of pensioners, but he also had the temerity to look into the faces of the committee at the annual general meeting in 2012 and say the bank accounts were in good order.
"The loss of the money meant many members lost faith in the association, but the committee has rekindled everything, we are moving forward and the future looks good.
"We're hoping for a custodial sentence - all the members want to see the book thrown at him."
Foster has been remanded on bail until his sentencing.
The HMS Ganges training base, which opened in 1905, closed in 1976 and has remained derelict.