Marco Pierre White repaints Angel Hotel Suffolk pink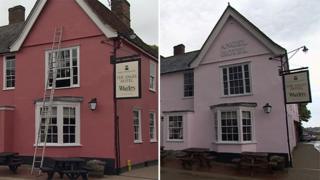 A 15th Century hotel owned by the celebrity chef Marco Pierre White has been repainted because it was the wrong shade of pink.
Babergh District Council visited the Angel Hotel in Lavenham, Suffolk, on Tuesday and found the wrong colour had been used on the building.
The pale pink makeover had been sanctioned by a manager but local people said it "lowered the tone".
It has now been replaced with a more traditional, darker, Suffolk Pink.
The building, first licensed in 1420, used to be a shade of cream.
Roy Whitworth, chairman of the parish council, said: "There was a lot of comment when the hotel was first repainted a light blancmange pink and a fair amount of complaint to Babergh District Council.
"To give him his due, when Marco visited to take a look he didn't like it either and so very quickly it has been painted a rather more dark colour which is more akin to what people regard as Suffolk pink."
Historically pig's blood was added to whitewash to create the colour, variations of which is used on many of the listed buildings in the village.
Formal permission from the council must be sought before any listed building's colour is changed.