Calf scales fences to disrupt A14 Orwell Bridge traffic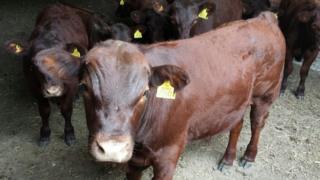 A runaway calf who disrupted early-morning traffic on the A14 in Suffolk had crossed four barbed-wire fences to get there.
The animal wandered on to the western end of the Orwell Bridge near Ipswich on Friday morning.
Its owners, the Suffolk Food Hall, said it had been removed from its mother and was trying to get back to her.
Food hall director Robert Paul said: "It's amazing what they can get through if they're really determined."
Police said the disruption lasted for an hour.
The food hall said 19 calves had been removed from their mothers the day before as part of the weaning process, but all of them managed to get out of their new paddock in Freston.
One of the calves travelled about a mile to the embankment at the western end of the bridge.
Police said it was reported by motorists to be wandering up the bridge's footpath and it ventured onto the central reservation of the dual carriageway.
Mr Paul said: "It either scaled the 4ft high fences or pushed through them, although we can't say which because we weren't there to see it.
"Most livestock, if they feel pushed, will jump a barbed-wire fence and I've seen a bull clean-vault a five-bar gate from a standing start without any run-up.
"The police understand that livestock do sometimes get out and we tried our best to prevent it getting on to the A14, but by the time we got to it, it was fired-up and on the wrong side of the road."
The food hall said all of the calves were back in their paddock.