Chef Marco Pierre White told to repaint pink Angel Hotel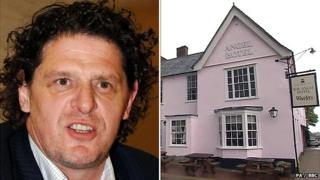 Celebrity chef Marco Pierre White has been told he must repaint one of his hotels after it was made an "unacceptable" shade of pink.
Babergh District Council visited the Angel Hotel in Lavenham on Tuesday and found the wrong colour had been used on the 15th Century building.
The authority said it hoped to reach a "negotiated solution" over the matter.
The hotel said it was in the process of painting it darker, bringing it "in line" with other pinks in the area.
The building, first licensed in 1420, used to be a shade of cream, but the council received complaints after it changed to the light pink colour.
'Suffolk pink'
Hotel manager Robert Jackson said the celebrity chef, who bought the hotel two years ago, had expected the pink to be a darker shade.
"There are a few properties around the village that have that traditional deeper 'Suffolk pink' and that's what Marco initially wanted, so the colour is going to be changed more in line with a few other pinks around the village," he said.
Formal permission from the council must be sought before any listed building's colour is changed, a council spokesman said.
"We very much hope that a negotiated solution will be reached and that no further enforcement action by the council will be necessary," said a council spokesman.
"We are also investigating signage that has been added to the building and some interior alterations to the Angel.
"Investigations into these alterations are ongoing."