Ipswich 19th Century private bank notes displayed at museum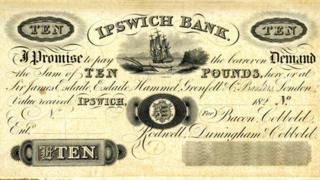 Two bank notes issued by private banks in Ipswich about 200 years ago are to go on display in a museum.
They were bought at auction by the borough council for between £1,000 and £1500 for the pair, using money from a bequest.
One is an 1807 £1 note issued by Ralph Holden, Sanders & Co, the other an unused 1820 £10 Bacon, Cobbold, Dunningham and Cobbold note.
Both are on display at the museum in the town.
The Ralph Holden, Sanders & Co note, dated 10 January 1807, was the subject of a court case at the Old Bailey in London in its year of issue when it was alleged it was a forgery as Ralph Holden did not exist.
However, the two defendants were found not guilty as the note was "issued in the ordinary course of trade".
The £10 note is associated with the Cobbold family, bankers and brewers of Ipswich.
Philip Wise from the museum said: "These bank notes are miniature works of art.
"The Cobbold note in particular has a delightful depiction of a sailing ship."