Fatal Gipsy Lane crossing still open a year after advised closure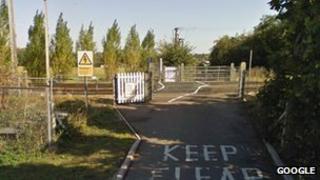 Lives are still being put at risk at a level crossing in Suffolk that Network Rail was advised to close a year ago, a town council has said.
The Rail Accident Investigation Branch recommended closing the crossing in Needham Market where pedestrian Brenda McFarland, 82, died in 2011.
Kevin Hunter, Needham Market Town Council clerk, accused Network Rail of forgetting about "the community".
The crossing's future was still being finalised, Network Rail said.
It was advised to close the Gipsy Lane crossing or, if it could not receive permission from Suffolk County Council to do so, take "appropriate risk-reduction measures so that pedestrians have sufficient time to cross safely, and are adequately warned of approaching trains".
'Not easy process'
The Rail Accident Investigation Branch's report into Mrs McFarland's death said concerns had been raised about the safety of pedestrians crossing the line prior to the fatal collision.
The independent body made recommendations to Network Rail but has no power to enforce them.
A spokesperson for Network Rail said: "Closing a level crossing is not always an easy process but we are working with the council to do this and finalise our plans to provide an alternative safe route across the railway.
"As soon as we have some concrete plans we will share these with the public."
Suffolk County Council said it had been consulted on proposals.
A reduced 50mph limit has been put in place since Mrs McFarland's death.
Mr Hunter said he would keep "banging on the door" until the crossing was closed or improvements made.
"The trains are on top of you fairly quickly," he said. "You have seconds to react."