Norwich Road roundabouts work in Ipswich delayed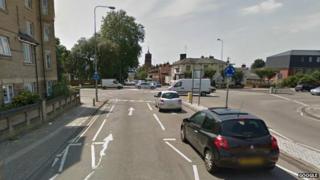 Delays to parts of Ipswich's £21m transport improvement programme will not have a "significant impact" to the overall project, planners said.
Work was due to begin next week replacing the roundabouts on Norwich Road with traffic lights.
Suffolk County Council said design issues and works on the A14 mean it has been postponed until later this year.
Meanwhile, work renovating the Cattle Market bus station is now due to finish two months later in September.
The council said work by the Highways Agency on the A14 would have led to some diversions through Ipswich, and it did not want to add to traffic delays by starting work at a major junction near the town centre in the same period.
Underground problems
Graham Newman, the council's cabinet member for transport, said: "We felt that for a number of reasons the time was not right to proceed with these particular road works and have therefore postponed them until further notice.
"We need to look at representations that have been made by local people and make sure these plans are completely correct.
"Delaying this specific scheme will not have any significant impact on the overall Travel Ipswich project."
The council said work at the bus station would take longer because water mains and electrical cabling was not as far underground as they had thought it was, so some redesign work will have to take place.
Andrew Gutteridge, the council's assistant director of highways, said: "We're working with the utility companies to come up with a different way of working as it's about how we use heavy equipment near underground services which are quite old.
"We should be able to leave the cables there, so I'm not expecting a significant cost increase."
The Travel Ipswich scheme has seen work completed to replace the roundabout between Civic Drive, Princes Street and Franciscan Way with traffic lights, as well as other paving and road improvements.