Suffolk road race added to cycling calendar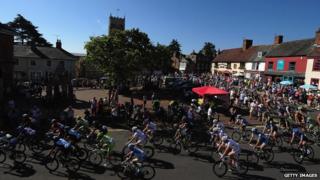 A new cycling road race is to take place in Suffolk as part of the sport's elite national calendar.
The University Campus Suffolk Ipswich & Coastal Grand Prix will cover 125 miles (200km) around Ipswich, Woodbridge and Rendlesham Forest on 8 September.
The race has been scheduled in the run-up to the Tour of Britain which starts in Scotland a week later.
The organisers said they expected dozens of entrants as teams prepared for the Tour.
The Tour of Britain does not visit East Anglia this year, but it was estimated that 175,000 people watched the Ipswich-Norwich stage featuring Bradley Wiggins and Mark Cavendish last September.
Jonny Clay, a British Cycling director, said: "We're happy to be the catalyst for this new race as our relationship with Ipswich grows to incorporate the full spectrum of cycling activity, inspiring more people to participate.
"Hopefully, 2013 is the start of an event that will feature on the calendar for many years to come."
Coastal loops
Councillor Geoff Holdcroft, from Suffolk Coastal District Council, said: "Not only will it be an exciting spectacle for residents and visitors but it also helps to promote cycling as part of a healthy lifestyle.
"I hope we can encourage many people to come out and cheer the riders along a course which includes some of the most beautiful parts of our county."
The race starts in Ipswich waterfront, travels through Kesgrave, Martlesham, Woodbridge and Rendlesham Forest before completing a number of loops around the villages of Sutton, Alderton and Hollesley and then heading back to Ipswich.
The new race takes place alongside the Skyride in Ipswich which is for the general public to take part in.