Absconded prisoner Daniel Best delay alert questioned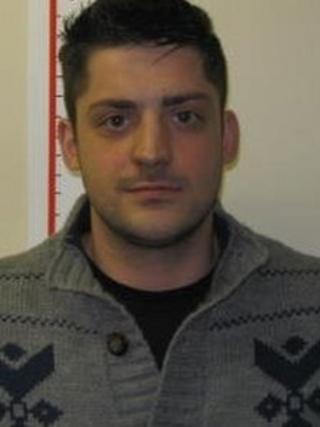 Suffolk's police commissioner says he wants to know why there was a "long gap" between a prisoner going on the run and the public being alerted.
Daniel Best, 25, who was jailed in 2007 for kidnapping his ex-girlfriend, went missing from Hollesley Bay open prison on Friday evening.
Police released the information at 15:30 BST on Saturday, but have said they will now review their processes.
The police commissioner said he would discuss it with the chief constable.
Police issued a statement on Saturday to say Best was last seen at 17:00 BST on Friday but not present when roll call was taken almost three hours later.
Tim Passmore, Suffolk's PCC, said: "It does seem very surprising that there was such a long gap between this chap escaping and the public appeal coming out.
Risk 'low'
"I have to be careful not to stray too far into operational issues, but I am there to hold them to account and look after the public interest.
"I'm talking to the chief constable and we'll look at the facts and if there is anything that needs to be changed or improved, then we'll have a discussion about that."
Deputy Chief Constable Paul Marshall said: "In this particular case, an assessment carried out after liaising with the prison service concluded that the risk to the public from Daniel Best is low.
"At the same time, there were a number of sensitive enquiries which needed to be carried out as a priority.
"However, on reviewing the incident, we accept that the information could have been released at an earlier stage - and, as a result, we will be reviewing our processes."
Police said Best was serving an indeterminate jail sentence at the Category D prison and members of the public should not approach him.
He is about 5ft 10in (1.7m) tall and walks with a "noticeable limp".