Suffolk's Curious County campaign a hit with attractions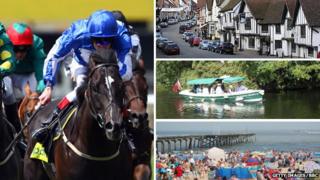 Tourist attractions in Suffolk say the Curious County campaign, which was criticised by local MPs, has succeeded in raising the county's profile.
The marketing strategy, launched earlier this year, is claimed to have reached 1.5m people using social media.
Some tourism businesses said it had raised bookings, while others insisted it was hard to quantify.
The scheme was branded "idiotic and meaningless," by Bury St Edmunds MP David Ruffley last year.
Dr Therese Coffey, MP for Suffolk Coastal, claimed that "curious" was a euphemism for something "not quite right".
'Controversy'
Amanda Bond, brand manager at Visit Suffolk, said the Curious County Facebook page and Twitter hash tags had been "extremely successful".
"It created controversy, but that put the campaign on a global level which didn't do it any injustice," she said.
"We will undertake more research to see how many people were influenced into making a visit by the campaign."
Christopher Garibaldi, director of the National Horseracing Museum in Newmarket, said it had an 18% rise in visitors in the first five months of 2013 compared to 2012.
"Curious County was a consciousness-raising exercise and it generated a lot of attention nationally which is all to the good, but it's always slightly intangible."
'New audiences'
Fiona Siddall, manager at Easton Farm Park near Framlingham, said visitor numbers were up 10% this year.
"Things are looking more positive, but that could be down to better weather.
"The online chat it's generated has certainly raised the profile of Suffolk and it's looked at unusual things like smaller museums and art exhibitions rather than the usual beach campaigns."
Suffolk Secrets, a holiday lettings agency with 300 properties, said its financial investment in the campaign had "more than paid off" in terms of bookings via the Curious County website.
Alex Paul, general manager, said: "People don't necessarily expect immediate traffic from conversations on Twitter or Facebook, but the key thing you want is to reach new audiences and it's achieved that."