Ipswich Cornhill revamp shortlisted to five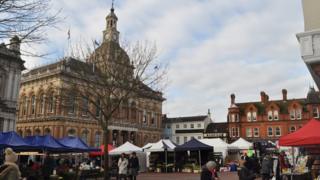 Five architects have been shortlisted to showcase their plans for a renovated Ipswich Cornhill.
The area in front of the town hall is being redeveloped after Sir Stuart Rose described it as "a bit shabby".
The former chairman of Marks & Spencer, who lives near Ipswich, is now advising the project on a voluntary basis.
The five initial designs will go on public display on 2 July at the town hall. The final plans are expected to be announced in September.
Ipswich's Conservative MP Ben Gummer, who is involved with the partnership alongside Ipswich Borough Council, Ipswich Central, Suffolk County Council and University Campus Suffolk, said the Cornhill was a "diamond that needs re-setting and polishing".
"If we get this right, it will provide the impetus to regeneration of the town centre that everyone in Ipswich knows it needs," he said.
Mark Bee, leader of Suffolk County Council, said: "The proposals that will be going on display at the town hall are precisely that - proposals.
"We want to hear what residents, business owners and shoppers think about them."
Ipswich Borough Council leader David Ellesmere said he did not know details of the architects' plans, saying they are a "closely guarded secret".
But he said all of the plans would need to include a "strong thriving market in the town centre".
The market is currently held on the Cornhill but Sir Stuart had suggested moving it elsewhere.
A second public display of revised plans will go on display, at the town hall, on 3 September.