St Mary's Church reopens at Ickworth House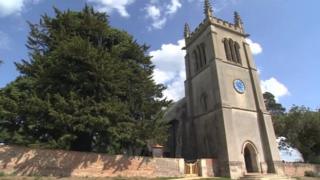 A service of blessing has been held to mark the reopening of a restored medieval church.
St Mary's Church is in the grounds of Ickworth House, near Bury St Edmunds, and has been the resting place of the Hervey family for centuries.
Those involved in the restoration were given nearly £1m by the Heritage Lottery Fund and English Heritage.
The service was attended by Frederick Hervey, the 8th Marquess of Bristol, who led the church restoration.
"I guess life begins here with a christening and then you get married and then you die and get buried in the vault," he said.
"For my family, every single one of them is here."
Stuart Hobley, of the Heritage Lottery Fund: "I was here two years ago and it was this crumbling, cowering church.
"Now it's restored, open and fresh, and back at the heart of the Ickworth estate - it looks amazing."