Ed Sheeran honoured with Ipswich Music Day stage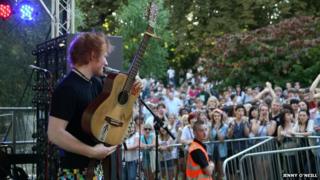 Ed Sheeran says he is is "privileged" to have a stage named after him at this year's Ipswich Music Day.
The singer grew up in nearby Framlingham and played the event, which is held at Christchurch Park, in 2009 and 2010.
In honour of his subsequent success, the stage he played on both occasions will be called the Ed Sheeran Stage.
"I remember playing at the event a few years ago and it was great fun," he said.
Sheeran, 22, received early support from BBC Radio Suffolk and was already well known locally when he played the first show at the festival.
However, it was not until his second appearance that his career was starting to take off.
Sheeran had been to America a few months previously, where he was spotted by Oscar-winning actor and singer Jamie Foxx.
Since then, he has performed at the closing ceremony of the Olympics and at the Queen's Diamond Jubilee concert and his debut album on a major label, +, has gone quadruple platinum in the UK.
But he says he still has fond memories of playing Ipswich Music Day, which he called an "amazing event".
There is, however, no chance of him making a return this year as he will be in America.
Ipswich Borough Council, organisers of the free event which will this year take place on 7 July, said the naming of the stage was to recognise the "importance of encouraging young talent".
Bryony Rudkin, culture portfolio holder, said: "This is a fantastic gesture from one of the biggest names in music."
About 40,000 people usually attend the event, the council said.