Oulton Broad speedboat engine thefts leads to race cancellation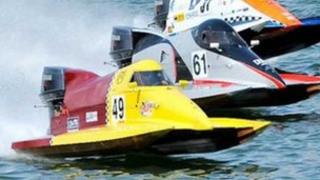 A Suffolk speedboat race meeting had to be cancelled after five engines worth £10,000 were stolen from a compound.
The Bob Spalding Memorial Meeting was due to take place at Oulton Broad on Thursday evening.
The engines were taken from the rescue boats at Nicholas Everitt Park sometime in the past week, police said.
The Lowestoft & Oulton Broad Motor Boat Club said there were no plans to cancel future meetings, which can attract crowds of 1,500.
The thefts were discovered just prior to the meeting as organisers went to get the rescue boats ready.
'Heartbreaking'
Malcolm Bryant, club commodore, said: "We hadn't got any rescue boats, so obviously we couldn't do the racing because safety is the utmost priority.
"It's heartbreaking because there's a lot of effort from everyone.
"There's a fence around the compound which is locked, but it's a professional job by thieves who knew exactly what they were doing."
The thefts were of four black Marriner 75hp engines and one black Mariner 40hp engine, which the club said were worth about £10,000 with additional costs for damaged fencing and cut cables.
The club said it did not expect the stolen engines to be recovered as the police had found no fingerprints and the engines were expected to be sold outside the local area.
It said other rescue boats would be used for future meetings until they get their own boats refitted.
The event will not be rescheduled, but some of the races are expected to be slotted-in at other meetings.