Fears Brantham Wardle Storeys housing plan would 'destroy' village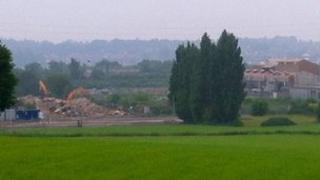 Some residents fear proposals to build 600 new homes around a former industrial site will "effectively destroy" their Suffolk village.
The St Francis Group wants to redevelop the former Wardle Storeys/ICI site in Brantham.
The group said it needs to build on greenfield land, which is not currently available for housing.
Babergh District Council is consulting on whether to alter its planning policy to allow the farmland to be built on.
The 99 acre (40 hectare) industrial site was bought by SFG in 2007 and its proposal is to build half the homes on the brownfield site and half on agricultural land between the factory site and the village.
John Cooper, 64, who has lived in the village for most of his life, said: "The site needs clearing up because the factory demolition has been left as an eyesore.
"There is a need for housing in Brantham, but on a much smaller scale as this plan is going to make the village 60% bigger than it is now.
"Local youngsters need houses they can afford, but the developers are holding the village to ransom by insisting they have to build on the greenfield site as well."
'Massive increase'
Brantham Parish Council said there are currently 1,000 homes in the village, which is on the Stour estuary near Ipswich.
Trevor Nobbs, vice chairperson of Brantham Parish Council, said: "People want to see development in proportion to the size of the existing village.
"The thing that concerns people is that it will take a lot to absorb 300 homes on the industrial site and an additional 300 homes will be a massive increase and effectively destroy the village."
Babergh District Council, the local planning authority, is proposing to alter its core strategy which earmarks where housing can be built.
Simon Barrett, councillor for economic development at Babergh, said: "It desperately needs re-developing, but with these old contaminated, brownfield sites the cost of redeveloping is very high.
"The developer bought the site in 2007 and we've got to be pragmatic and go forward with the reality of the financial situation now.
"For the developers to build and make a contribution to community facilities, we have to compromise and there's an element of building on a greenfield site."
Babergh said the site would still be about two-thirds employment and one-third residential and that a six-week consultation process on changing the core strategy in Brantham was taking place.
The St Francis Group was unavailable for comment.