'Escort scam' trial: Christopher Taylor guilty of money laundering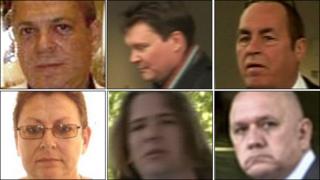 A former detective with West Yorkshire Police and a 29-year-old man from Spain have been convicted of money laundering in a £5.7m fraud trial.
Christopher Taylor, 57, of Wakefield, and Bradley Rogers, of Malaga, were on trial with three others at Ipswich Crown Court.
The jury heard 14,000 people were conned in an escort and debt elimination scam.
A jury cleared both men of conspiracy to defraud. They denied all charges.
Rogers wept as he was led from the dock.
On Friday Mark Bell, 41, of Westerfield, near Ipswich, Colin Samuels, 61, of Redgrave, Suffolk, and Geraldine French, 60, of Spain were found guilty of two counts of conspiracy to defraud.
A sixth person, Toni Muldoon, has admitted conspiracy to defraud and money laundering.
All six are due to be sentenced in July.
During the trial, which has lasted more than two months, the jury heard how thousands of people paid £300 to sign up to be escorts, but they got no business in return.
The prosecution said various fake escort agency websites suggested people could earn £600 a night to be companions on non-sexual dinner dates.
Others, who owed money to credit card companies, were fleeced by paying upfront fees in the hope of eliminating their debts, the court heard.
The case was investigated by Suffolk Trading Standards, which had received complaints from people who did not receive the service they had paid for.
It turned into the biggest case of its kind ever taken on by the local authority, with the inquiry lasting more than three years.